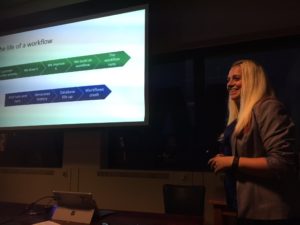 In september I gave my first community presentation at the DIWUG (dutch information worker user group). My presentation was about everything that happens behind the doors when your SharePoint workflows are successful, and run for years. (not one single long running instance, but just a lot of workflows).

The presentation was inspired by multiple customer scenarios, which I have encoutered over the years. In all of them the customer was making extensive use of workflows for automating business processes, when suddenly random errors appear.
In the presentation I explain which data is generated when a workflow is running, by which numbers the volume of data is increasing, how to clean it up, and of course how to prevent it.
The session was directed towards Solution Architects, Consultants, Power Users and everybody else that designs or implements workflows.
You can view the slides on Docs.com/tuned4